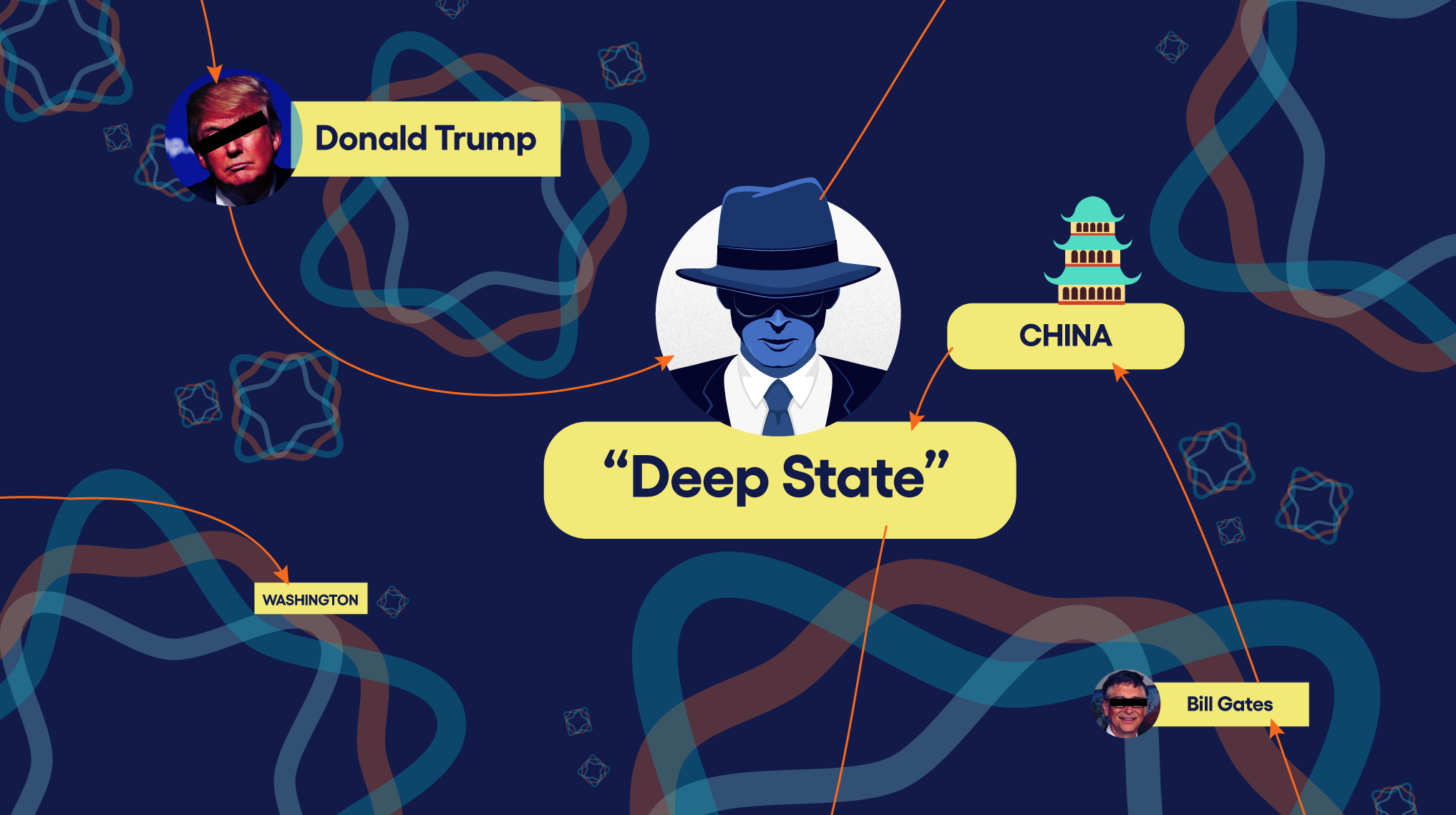 There are many conspiracy theories around COVID-19, but their adherents don't like to be labelled as conspiracy theorists. The Rumour Detector suggests an exercise: let the adherents of one of the theories presented below show the supporters of another theory why theirs is more valid than the others.
Over the past few months, several observers have repeated how important it is to try to start  a dialogue with individual "conspiracy theorists" instead of mocking or insulting them. The Rumour Detector has  also written about this.
But finding common ground can take time. For example, what if somebody refuses to wear a mask because he or she believes the pandemic was exaggerated and that governments have deliberately exaggerated it? Do you have to start by talking about scientific studies on masks? What about statistics on the pandemic? Should you start a discussion on decisions by governments in general or by one government? Do you focus on decisions a few months ago or a few weeks ago?
"First it will be useful to determine precisely what you want from a discussion with a person who adheres to an idea you consider aberrant," Normand Baillargeon summed up in June. He suggested, "instead of presenting your position and defending it, listen to the other person's argument". Then you'll be in position to reformulate some of his assertions instead of attacking everything as a block. Or, you'll be able to admit that you're also skeptical about a specific government measure. This is an example of agreement, the first brick in building a dialogue.
What would the objective criteria be?
The other difficulty is illustrated in the Rumour Detector's compilation in this infographic. Even if you believe in a first theory, it often contradicts another one. Based on what objective criteria should you prefer one over the other?
In summary, if you recognize yourself or any of the people close to you recognize themselves in one of the theories presented in this image:
Do you have any suggestions for initiating a dialogue with people who adhere to a theory that contradicts yours?

Can you say why the other theory is less valid than yours, and could these criteria rally your counterparts to your position?

Do you have objective criteria that would allow the Rumour Detector to prove that you have the soundest theory?

Can you suggest an approach by which "they" and "you" could reach a consensus?

Two objections to the expression "conspiracy theory"
In the past few weeks, articles by the Rumour Detector about conspiracy theories have generated the same two questions every time in comments on social media:
By using the label "conspiracy theories", aren't you denying the fact that real conspiracies exist?

Do you risk labelling someone as a "conspiracy theorist" who challenges public health decisions on lockdown, for example?
The answer to the first question can be found in the definition of a conspiracy theory. Such a theory is based on the existence of "an extremely powerful person or group", acting "in the greatest secrecy", regarding which few statements can be contradicted. Supporters always invoke coincidences, anecdotes and amalgams, but never precise evidence.
According to this definition, the concealment of evidence by the U.S. Government to trigger the war in Iraq was really a conspiracy, not a conspiracy theory. Supported by documents and testimony, we know concealment and lies were involved.
The answer to the second question is that stating the opinion that the government acted too strongly with a specific lockdown measure isn't a conspiracy theory. It's an opinion, which can be debated based on the data we have at this time. It only becomes a conspiracy theory if you start by claiming that the lockdown is the result of a vast concealment endeavour involving the government and doctors, and even scientists and the media.
To learn more about the conspiracy theories regarding COVID
COVID: Top 10 Current Conspiracy Theories, Cornell Alliance for Science, April 2020
Voici la désinformation qui circule à propos de la COVID-19, Les Décrypteurs, June 15, 2020
Coronavirus: Fake news is spreading fast, BBC, February 26, 2020
Chinese Diplomat Accuses US of Spreading Coronavirus, VOA, March 2020
Right-Wing Influencers Are Convinced Dr. Anthony Fauci Is Working With Hillary Clinton To Undermine Donald Trump, BuzzFeed, March 25, 2020
Les différents visages des antimasques, La Presse, September 26, 2020
 A social science study: Conspiracy theories as barriers to controlling the spread of COVID-19 in the U.S., Social Science & Medicine, October 2020
A Wikipedia page that identifies a lot of false information about the pandemic, including conspiracy theories
One of the Twitter feeds of Montréal researcher Marc-André Argentino that he devotes to QAnon's theories
---
This article was originally published on the website of L'Agence Science-Presse (French only).
---