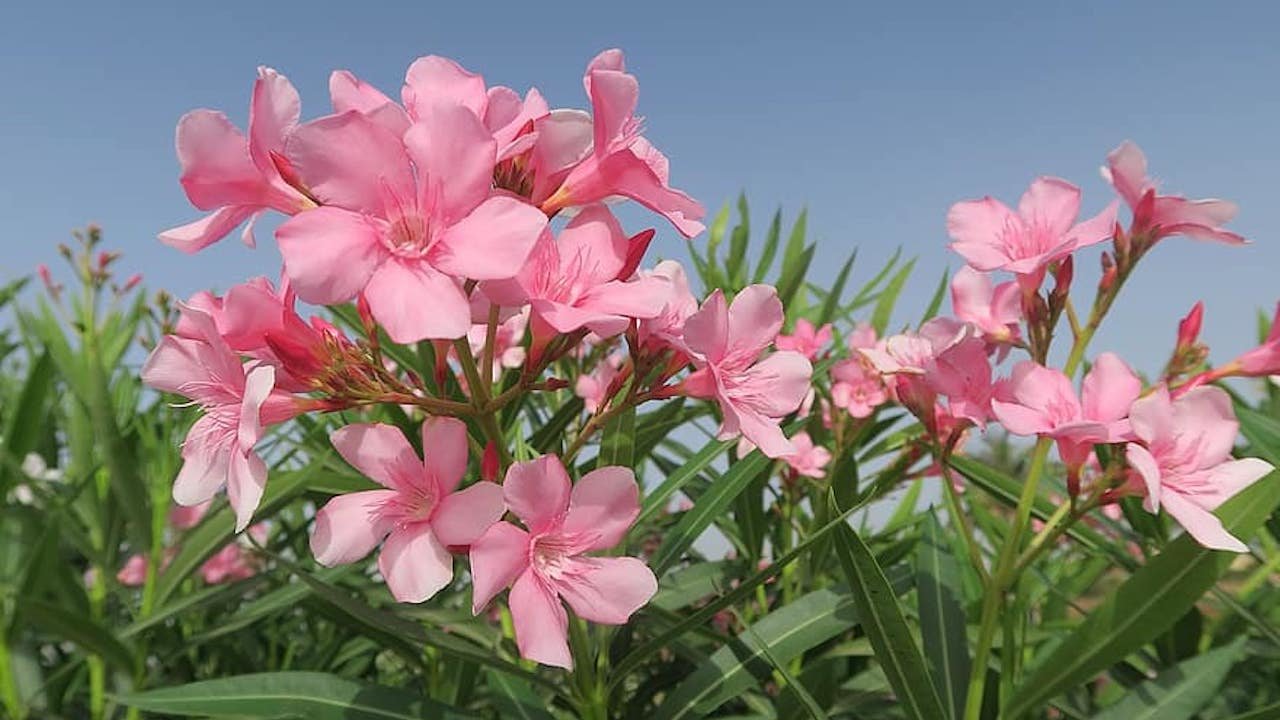 A plant extract, oleandrin, was recently added to the list of supposed miracle treatments against the coronavirus in the United States. What are the clues that tell you not to jump to conclusions?
Where does the information come from?
A quick search of recent reports shows that the Vice-President of Phoenix Biotechnology, Andrew Whitney, had Donald Trump's ear at a White House meeting in July. Phoenix is the company that wants to market the product. The meeting was made possible  by a businessman named Mike Lindell, a Phoenix board member and investor. Lindell is also a donor to Donald Trump's campaign. Questioned by Axios, a news website, Mike Lindell claimed that oleandrin, a compound derived from the oleander plant, was "the miracle of all time".
This White House connection could explain why the media ran with the story. But it doesn't tell us if the product has proven effects against COVID-19.
What is oleandrin?
Oleandrin is the name of the chemical compound produced by the oleander (Nerium oleandrin), an ornamental plant.  If you Google "oleandrin" these days, you'll quickly find warnings about the risks. For example, in a popular science article published in the wake of media interest, a Professor of Dermatology at Emory University warns against the risk of poisoning. She reminds the readers that the plant is "highly toxic" and that cases of poisoning have been documented in humans and animals. Even eating snails that were living under an oleander plant was apparently dangerous.
Some scientists therefore didn't hesitate to express concern that too much enthusiasm regarding this compound would give people the idea to self-medicate. This could have fatal consequences.
What are the scientific studies on oleandrin?
There are plenty of products that are medically effective, even though they are toxic at certain doses. Is there any data that would support the enthusiasm for oleandrin?
To date, there's nothing. No published study is available on the oleandrin's efficacy in treating COVID-19.
Forbes Magazine revealed in August that the United States Army Medical Research Institute of Infectious Diseases had conducted laboratory tests on the efficacy of oleandrin against the coronavirus. Inconclusive data had caused it to abandon the experiment.
A study concluded in July that oleandrin blocked the coronavirus infection in monkey cells in a test tube. But it was only a "preprint" study, not yet peer reviewed, and its authors included two employees of Phoenix Biotechnology. Furthermore, the recent history of medical research reminds us that in vitro tests on animal cells fail in the vast majority of cases when it's time to test their efficacy in humans. They primarily serve to identify the product's properties before testing it on animals.
Other red flags?
If these appeals for caution aren't enough, reading these reports provides other information. For example, the My Pillow company, founded by Mike Lindell, was prosecuted in California for claiming that its pillows had been laboratory tested and that they could treat insomnia and sleep apnea. The tests it cited had not been published or peer reviewed and didn't include a placebo group.
Phoenix Biotechnology also didn't hide its intention to sell oleandrin as a "natural product" if it didn't succeed in having the health authorities approve it as a drug.
To learn more:
"Drug Pitched to Trump for Covid-19 Comes From a Deadly Plant", New York Times, August 20.
"Trump eyes new unproven coronavirus "cure"", Axios, August 16.
---
This article was originally published on the website of L'Agence Science-Presse (French only).
---